Julie Green captures "glorious, crushing moments."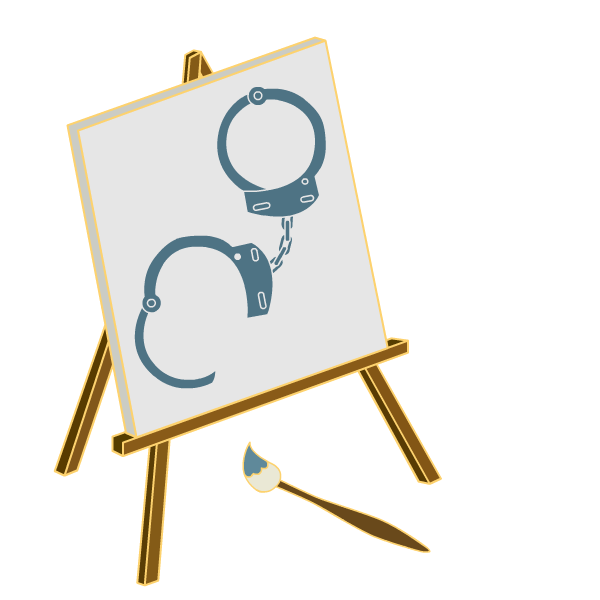 The painting on the easel in Julie Green's Corvallis studio depicts a Chicago brownstone; a geyser, drawn from the image on a Transferware plate Green bought at a local antique mall; a faint amaryllis flower, a symbol of success after a long struggle; a corned beef sandwich and dill pickles; and, poignantly, the text, "Thank God I'm Home."
Green's painting is the eighth in a series called "First Meal." The works pay tribute to the first meals exonerated inmates choose after being released, in some cases after decades of wrongful incarceration. Marcel Brown was freed in July 2018 after nearly a decade in prison.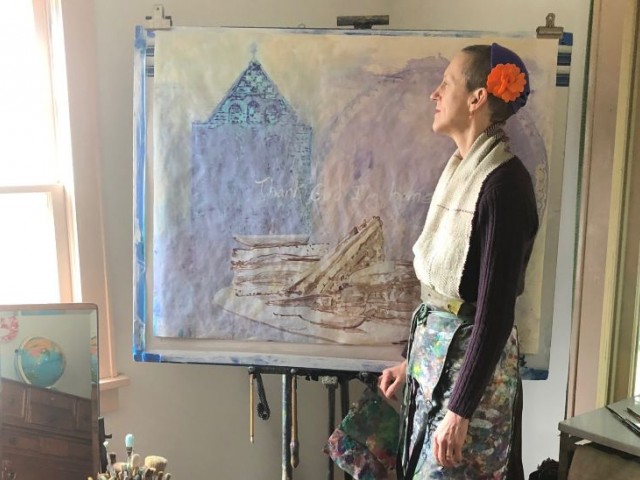 "First Meal" is in some ways a companion to Green's well-known "The Last Supper" project, which depicts the last meals death row inmates eat before their execution.  
At first, Green, a professor of fine arts in the College of Liberal Arts, thought the "First Meal" would be a lighter, more joyous project. The pastoral, utopic scenes, like the geyser in Brown's painting, are a testament to that, but contrast starkly with the text, images of food and the sheer number of years people have spent wrongfully imprisoned.  
"These are glorious, crushing moments," Green says. "I hadn't known how young some of them were when they were convicted. The stories are heartbreaking. Even though they're released, how do they go on with life? How are they not scarred?"  
For Green, both "The Last Supper" and "First Meal" are about humanizing people who have been institutionalized. But the "First Meal" paintings are large, three feet by 4 feet. "I wanted them to be like a banner. They are like pennants of loss," Green says.  
Green is working in collaboration with the Center on Wrongful Convictions at Northwestern University. Most of "First Meal's" subjects have been exonerated because the center has worked on their behalf. Since its founding in 1999, the center has helped to exonerate nearly 50 people.
"Anything that draws attention to wrongful conviction and the consequences these people go through is really paramount to ending this pattern of wrongful convictions in this country and all over the world," says Deputy Director Sara Sommervold. "I think visual art has a dynamic and important role to play in public awareness when it comes to social justice issues." 
Green aims to make and exhibit 20 "First Meal" paintings, with some proceeds going to the Center on Wrongful Convictions. 
Note: Julie Green died in Corvallis Oct. 12, 2021.
"Many people feel at a loss for how we can help if they see artwork that is challenging. But here there is a chance to support the center and the people working there in a positive way. They are saving lives." 

— Julie Green, Professor of Fine Arts
See more of Julie Green's artwork and studio process
Related Stories