Stress can have undetected effects on mental health.
But with tools to see them, we can act.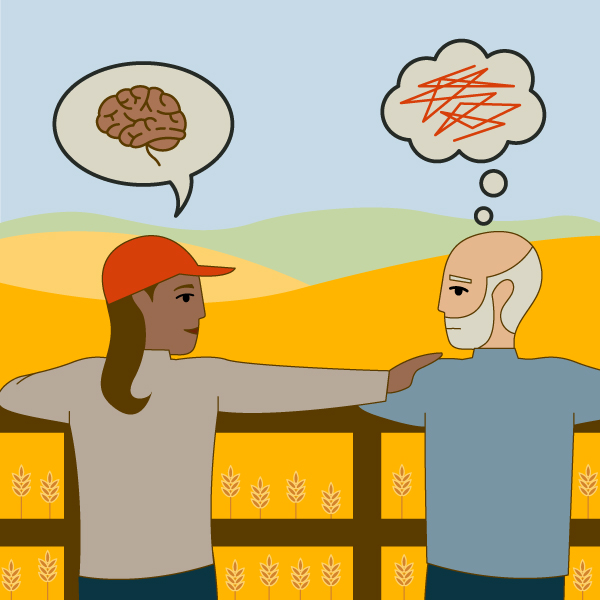 Farmers die by suicide at twice the rate of the general population. Poor financial situations, crop failures, equipment breakdowns, weather and injuries are among the contributing factors. But the impacts these stresses have on farmers' mental health aren't always seen.
In response, the USDA-NIFA created the Farm and Stress Assistance Network in 2020 —and OSU Extension is spreading the word.
OSU and the Farm and Ranch Stress Assistance Network is not a crisis center. If you or someone you know is struggling with mental health and need immediate assistance, contact the National Suicide Prevention Lifeline at 1-800-273-8255. Or text HOME to 741741.
Oregon State is part of four regional Farm and Ranch Stress Assistance Network entities across the U.S., funded by the USDA National Institute of Food and Agriculture. FRSAN provides multiple resources to those working in agriculture, including a mental health self-assessment. It also includes a training program known as QPR, short for Question, Persuade, Refer. These 90-minute training sessions help families, friends and colleagues of farmers and ranchers understand the signs of depression and suicide, as well as how and when to step in. QPR training is offered via free webinars throughout the year.
Cassie Bouska, an associate professor of practice in the College of Agricultural Sciences and FRSAN project lead, says an easy way to understand QPR training is to compare it to CPR.
"CPR is an emergency intervention for cardiac events, while QPR is an emergency intervention for mental health/suicide events," she says. "Everybody understands that with CPR, you recognize someone that needs help and use CPR skills to keep them alive until help arrives. QPR is basically the same process, just with different tools."
Those tools include how to have a conversation with those showing signs of distress and potential suicide, how to find resources that might help them and when to point them toward experts who can provide professional help.
Since the program began, FRSAN has made several updates to reach more people who may be struggling. QPR training is now offered in Spanish, making it more accessible for Latino migrant farmworkers throughout Oregon. And the program has been marketed to reach both men and women, as well as a wide range of age groups.
In addition, OSU Extension distributed an Ag Producer Stress Survey, which was developed by the Western Region Agricultural Stress Assistance Program. Through that survey, Extension staff were able to identify the top three stressors for farmers in Oregon, which include lack of time, workload and legislative issues related to agriculture. With this information, OSU Extension can adjust the training to better address the most pressing needs of the agricultural community.
Bouska says one of the main goals of these programs is to meet people where they are, meaning both their emotional state and their physical location. One of the big hurdles in mental health crisis intervention is that the people who are most at risk are the least likely to seek out help. So they're working to have at least one person from every county Extension office statewide complete QPR training.
"Getting more trained QPR gatekeepers into the community means an increased probability that one might intercept someone in crisis and be able to provide emergency intervention," she says.
The more we learn to recognize the signs of stress and suicide, the better prepared we'll be to help. And it might just save a life.
To learn more about FRSAN, hear from Cassie Bouska on the Pacific Northwest Ag Network podcast.
Related Stories