Her music is more than sound — it's a celebration of the world around us.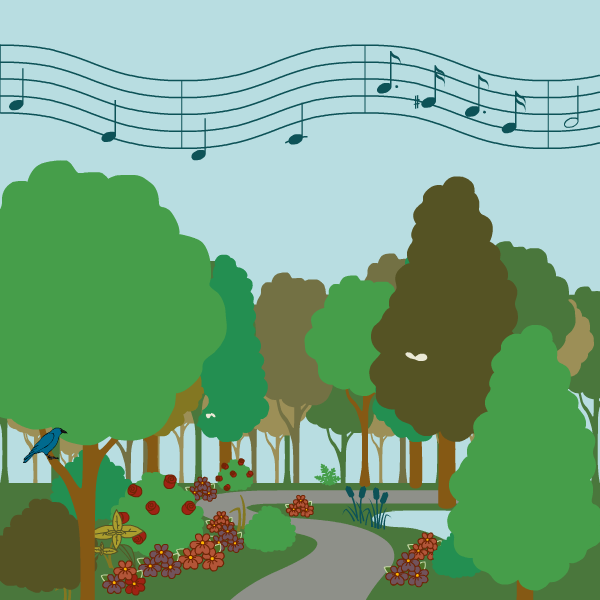 Rebecca Sabine Ramsey was the first person in her family to fall in love with music. It happened when the first-chair violinist from the Long Beach Philharmonic visited her fourth-grade classroom to share opportunities for music lessons. As soon as Sabine Ramsey saw her pick up the violin, it clicked.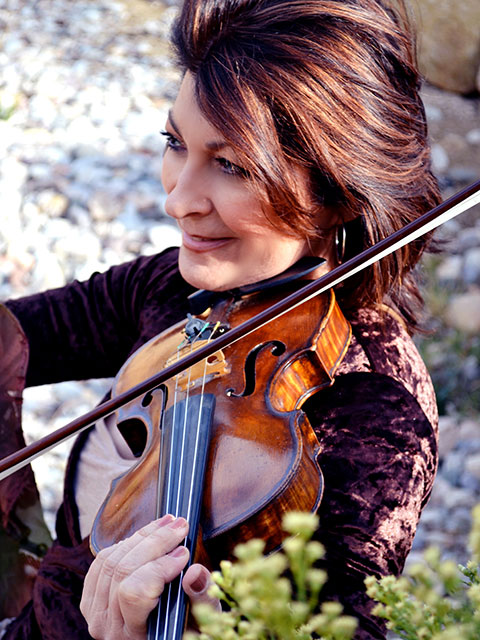 Through high school and the beginning of her college career in the 1970s at California State University, Long Beach, Sabine Ramsey played the violin for fun. Then a friend landed a gig in Las Vegas and invited her to go with him. She decided school could wait — she needed to see what opportunities lay ahead in the music business.
After landing a full-time job at Caesar's Palace, Sabine Ramsey spent several years playing alongside stars like Frank Sinatra, Pavarotti, Andrea Bocelli and Lady Gaga, as well as with Celine Dion during her eight-year residency. But when Dion's show closed in 2019, Sabine Ramsey decided she was ready to finish her bachelor's degree.
An OSU Ecampus student in the College of Liberal Arts, Sabine Ramsey found a program she could align with her career: music and the contemplative arts. The curriculum incorporates a mix of religious studies, philosophy, poetry and science — in addition to music.
Sabine Ramsey says participating in Ecampus discussion boards and group projects challenged her intellectually, encouraged interaction with the younger students and provided an outlet to share valuable insights from her many life experiences.
And the well-rounded curriculum helped to expand Sabine Ramsey's interests, to include areas like oceanography. She completed an internship that focused on the importance of preserving the environmental sounds of nature with College of Liberal Arts Assistant Professor Dana Reason and Ebony Granados, owner of Majestic Healing Services in Las Vegas and a member of the Lakota tribe. This work — which hasn't been studied extensively — focuses on the need to protect the species we often take for granted. Consider the sounds of birds singing in the morning. If those birds became extinct, it would radically change the sounds we hear.
Through her internship, Sabine Ramsey found a way to build awareness of the risks to the natural sounds we hear while honing her knowledge of mindfulness teaching — by developing musical meditation presentations for the public that incorporated the sounds of different animals.
While conducting her research, Sabine Ramsey came across sound recordings from the Monterey Bay Aquarium and was instantly drawn to the fin whale, the second-largest whale on Earth. The fin whale produces a much lower sound than other whale species, making their call almost inaudible to humans without headphones. But Sabine Ramsey was inspired by their sound, so she produced an entirely improvised musical piece —"Chasmic Surfacings" — in one take. She submitted it to Oregon State's Celebrating Undergraduate Excellence program and presented her research in spring term 2022. As a result, she received the Outstanding Senior of 2022 award from the College of Liberal Arts, was named a Liberal Arts fellow and invited to join the Phi Kappa Phi honor society.
Sabine Ramsey graduated in 2022 — and continues to pursue many professional musical avenues. She is a violinist in the Las Vegas Philharmonic, conducts monthly meditation livestreams via the Insight Timer app and co-owns the Violin Sound Sanctuary with her son Aaron — which offers guided meditation courses virtually as well as in-person events at a Las Vegas spa.
Rebecca Sabine Ramsey's 50-year music career has brought her joy, new experiences and new relationships. And the path ahead is wide open.