A destination of choice for more students.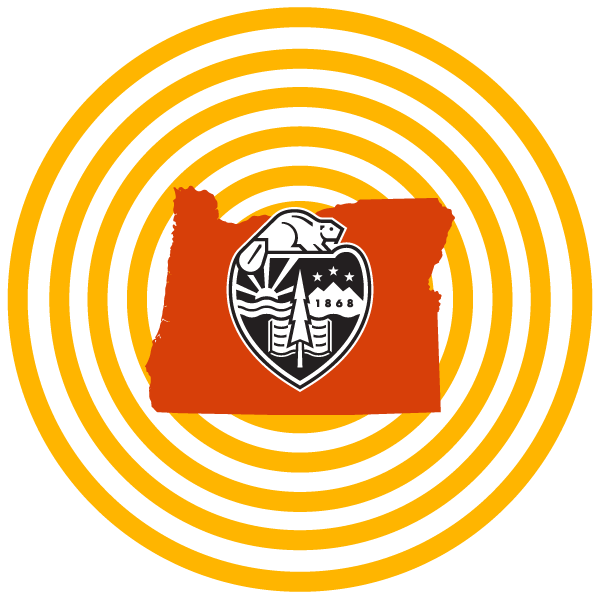 With a record 34,108 students enrolled this fall, driven by growth in students of color, strong demand for in-person and online classes, and surging interest from out-of-state learners and transfer students, Oregon State University continues to draw more students than any other university in Oregon.
Oregon State delivers a welcoming, supportive, confidence-building student experience. Strong undergraduate and graduate degree programs (more than 200 total), world-renowned faculty, and valuable hands-on learning through research and internships increasingly make OSU the destination of choice for a wide variety of students from all 50 states and 106 countries.
Enrollment growth across the university — in Corvallis, Bend and online — counters national trends where many colleges and universities are experiencing a second year of declines.
Meet a few of the students who joined Beaver Nation this fall:
In Corvallis, a campus that feels like home and a place to grow and thrive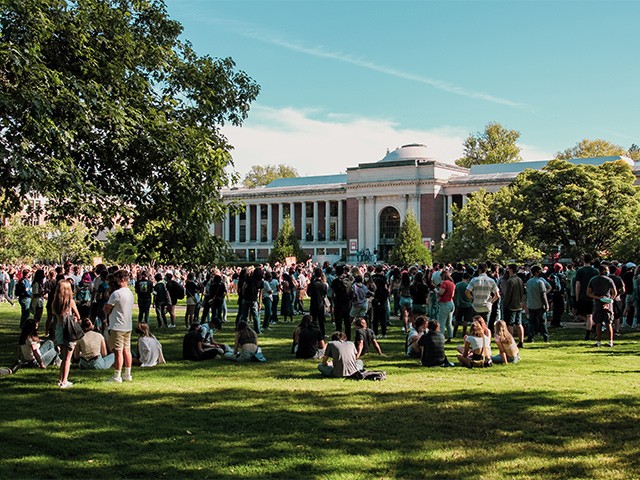 Enrollment in Corvallis includes 3,974 first-year students, an increase of 13.5% from last fall. Alejandro Paniagua chose Oregon State because he says the campus felt most like home to him. A public health major from Salem, Paniagua says attending class in-person makes him more motivated and engaged.
"I stepped out of my comfort zone a lot as a first-year student and a first-generation college student," he says. "Coming to Oregon State has been a transition, but it has made me grow so much. I feel so much more confident in social environments, and it is because of how open people are to just meet one another."
Stella Doehring, a first-year engineering major and Honors College student from Bozeman, Montana, says she picked OSU on the strength of its engineering program and because she felt she could grow, thrive and succeed here.
"In-person classroom time has been a crucial part of my first year of college," she says. "Being in-person, especially for the first year, is extremely valuable for forming new relationships, and I find being in an interactive environment adds interest to the overall learning experience."
Coming to OSU-Cascades to learn from the experts
At OSU-Cascades, enrollment grew to 1,247 students, a 2% increase over last year. Hayley Halvorsen, who uses they/them pronouns, came to the Bend campus from Arroyo Grande, California, after earning an associate degree in hospitality management. Their original plan was to become a pastry chef, but in the years after graduating, they realized baking was a hobby, and their professional interests lay elsewhere.
Halvorsen is enrolled in the arts, media and technology degree program at OSU-Cascades, taking upper-level courses that add faculty expertise to their self-taught experience.
"Up until now, I taught myself about design and how to use complicated creative software," Halvorsen says. "YouTube was my mentor. It's great to learn about art history and creative software from faculty who really know it."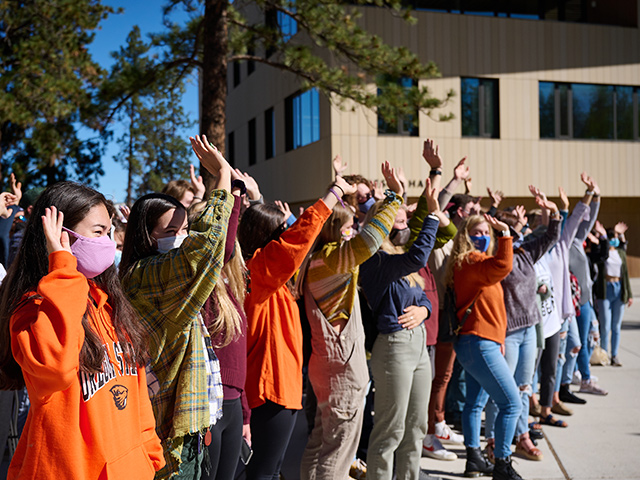 Ecampus offers a human connection online
Enrollment at Oregon State Ecampus increased 14% this fall, including computer science major Matthew Proper of Greensboro, North Carolina. Partially paralyzed, Proper chose an online program because he is unable to independently navigate a college campus.
Oregon State and Ecampus appealed to Proper for several reasons: its consistent top-10 ranking from U.S. News & World Report, competitive tuition and a degree he wanted from a well-known university that he felt he could trust.
Proper earned an associate degree online in North Carolina, but he says the experience with Ecampus is very different. He found a high level of interaction during a group project in an engineering class and has had regular meetings with an Ecampus student success coach. 
"There is definitely more of a human connection, and I really like that," Proper says. "There is a lot of support here."
Opportunities abound for transfer students
Oregon State is the destination of choice for transfers from community colleges and other schools, with 1,169 transfer students this fall, a 1.3% increase over last year. For Michelle Wambui, completing her first two years at a community college before transferring to Oregon State had always been the plan, ever since her uncle strongly recommended the university. She came to OSU from Portland Community College as a junior this fall.
"I've always known that OSU is really good in science majors and research opportunities, and for me, that was the basis of why I wanted to come here," she says. "I'm a pre-med major, but I'm still also interested in a lot of research, something to do with microbiology or genetics. I've been able to meet up with a mentor here."
"Coming to Oregon State has been a transition, but it has made me grow so much."

— Alejandro Paniagua 
Graduate students take on global challenges
Oregon State enrolled 5,629 graduate students this fall, of which 64% are from out-of-state, including international students. One of these is Fulbright scholar Rossana Macedo, who moved to Corvallis from Paraguay to begin a master's degree in environmental science in the College of Forestry. Her graduate program involves tracking forest changes via remote sensing and estimating their effects on biodiversity.
Macedo says she found an "amazing match" in major professor Matt Betts and loves "the true experience of an American campus" that she's getting at Oregon State.
"It's a welcoming environment in a community with a lot of people who speak my native language and share some of my experiences," Macedo says.
Related Stories