To Ukraine — driven by love and determination.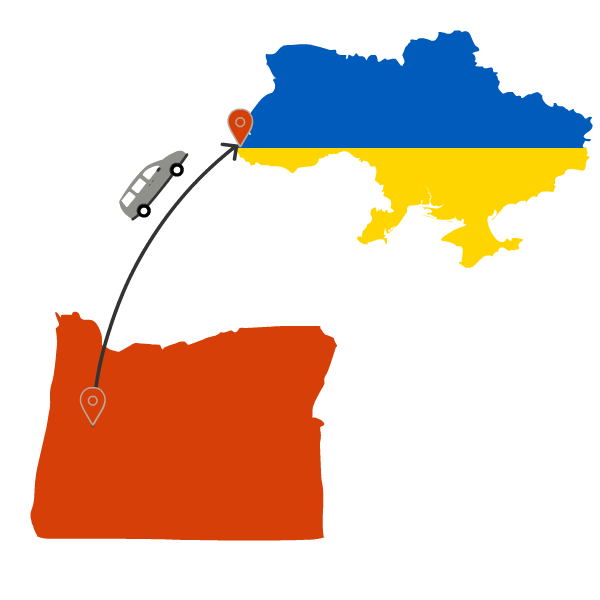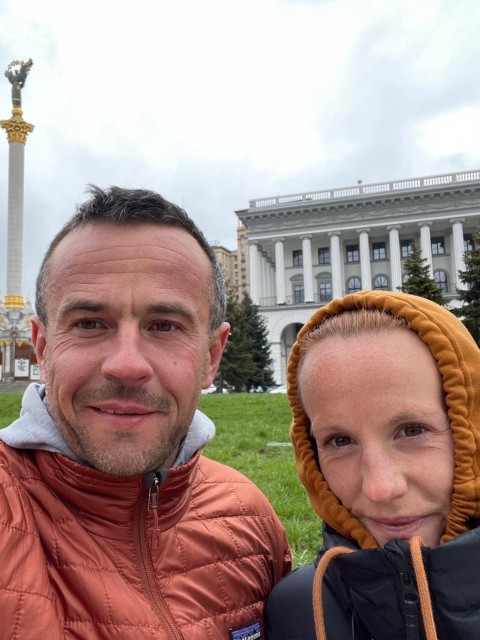 In a borrowed van — every inch stuffed with medical supplies, rolled-up mattresses, blankets, jackets, boots, gloves and other items — Hannah Bittner Zurjanova, B.S. '14, and her husband Misha Zyryanov shuttle between cities in the European Union and Uzhhorod, Ukraine, a city of 115,000 on the western border with Slovakia and close to Hungary.
The Corvallis couple has been in and out of Uzhhorod since March. Not only do they have friends and family there, Corvallis and Uzhhorod have been sister cities since 1989. They traveled separately from the U.S. to Europe, both taking multiple suitcases filled with medical supplies and other donations, including items collected by the Corvallis Sister Cities Association. 
Zurjanova and Zyryanov typically drive 8 to 15 hours per day to buy and deliver much-needed supplies that are unavailable in Ukraine. They're working with a local charity to provide humanitarian aid to refugees who have streamed into the city from other parts of Ukraine following the Feb. 24 Russian invasion. They also buy helmets, binoculars, power banks, first aid kits and other gear for Troop 128 — the local unit of the Ukrainian Ground Forces — and others.
Their ongoing relief efforts are funded entirely by donations, most of them coming from the Corvallis area and coordinated by Zurjanova's father, Steve Bittner, B.S. '80, M.Ed. '90. Bittner, a principal at Santiam Christian School, has visited Ukraine multiple times since 1992, working with local teachers and leading service teams of students from Corvallis.
Zurjanova, who majored in human development and family sciences at Oregon State, completed an IE3 Global Internship while a student in 2013, teaching English at an orphanage near Uzhhorod. She met Zyryanov in Ukraine, and they married in 2015. Zyryanov, who is from Uzhhorod, returned with Zurjanova to Oregon and became an American citizen in 2021.
With his U.S. passport, Zyryanov can travel back and forth across the border. His parents still live in Uzhhorod, and his brother-in-law, along with a number of the couple's friends, are fighting in the Armed Forces of Ukraine. They consider it both an honor and a duty to help people and a place they love.
"This is not the first time Ukraine is under attack from Russia," Zyryanov says. "Ukraine is not Russia and never has been. We are here, and we doing everything we can to fight back. We can't imagine not doing this."
Bittner is in regular contact with his daughter and son-in-law, getting updates to share with friends and supporters in Oregon. They have a place to stay in Uzhhorod, see friends and family when possible and catch a few hours of sleep in between supply runs. They intend to continue filling their van with relief supplies for as long as they can.
"The strength of the Ukrainian people is palpable, and I am truly and deeply inspired by it. We keep going because we must, and because Ukrainians deserve peace."

— Hannah Bittner Zurjanova, '14
"Please don't forget Ukraine," Bittner writes on Substack. "Doing something is better than doing nothing, no matter how small that something may seem," Zurjanova adds.
For an American-Ukrainian couple from Oregon, it's everything.