Meet Cedar: Oregon State's resident wellness dog.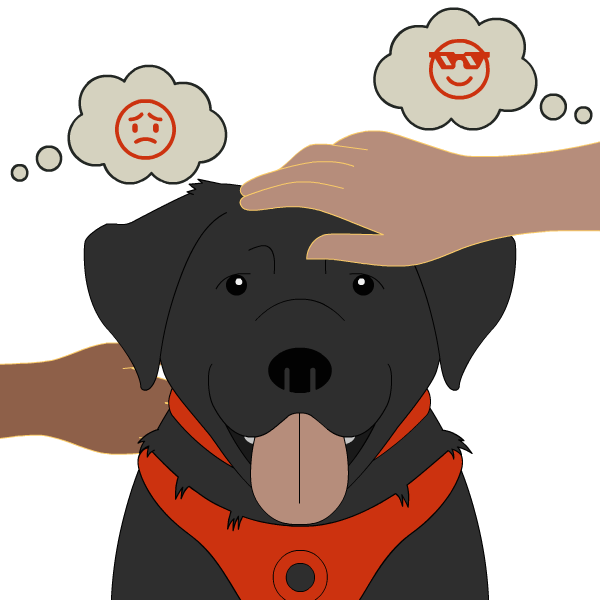 There's just something about petting a friendly dog that immediately makes your stress melt away. At Oregon State, Cedar is the perfect pup for the job.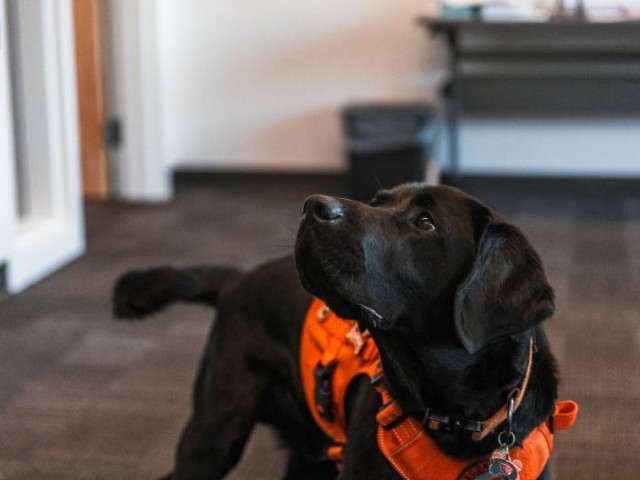 A member of the public safety team, the nearly 2-year-old black Lab is known on campus as a wellness dog. That means Cedar is there to provide comfort and stress relief for students, community members and his public safety colleagues. He is smart and incredibly calm, loves ice cubes and the occasional apple or carrot treat. His only real dislike is elevators, although he has come a long way in overcoming his fear of them. 
But one of Cedar's most impressive traits is his intuition.
Cedar is very aware of people's feelings — and is immediately ready to jump in and provide relief. During a campus summer camp, he helped soothe a child who was experiencing an emotional crisis. She had run away from her group and over the railroad tracks, and she wasn't willing to talk to anyone until Cedar greeted her and showed he could be trusted. After that, the child's anxiety lowered significantly and she was calm enough to answer questions.
In his day-to-day life, Cedar consistently checks in on his colleagues as well. Whenever they have a stressful phone call or a hard day, he tends to pop his head in their office or sleep nearby — just so they know he is there.
Where does Cedar spend most of his time?
Cedar's home is the Department of Public Safety. And because this department is open seven days per week, he has company full time.  
His day begins when the night shift switches to day shift, and the entire public safety team is in the same room for just a few moments. He greets each person as they come in, sits in on department meetings and chases the ball down a long hallway. He takes walks through campus and even goes on patrol with public safety officers.
In addition to his daily schedule, Cedar also participates in several events. He visits the library during finals week to give students a break, makes an appearance at end-of-year picnics and attends community events like the CARDV 5K — a fundraiser to end domestic violence. 
Because he works hard — just like any other staff member — Cedar gets days off too. The entire DPS team cares for Cedar as a unit, and they share the responsibility of taking him home with them.  
A perfect fit
OSU Chief of Police Shanon Anderson says bringing Cedar to campus has been invaluable for the public safety team. She says much of their work can be both physically and emotionally taxing. Cedar gives them a way to offload their stress, so they can do their jobs effectively and go home without carrying stress with them. In addition, Cedar gives students and community members a moment of pause in their daily lives — to simply enjoy the moment and let their worries fade away.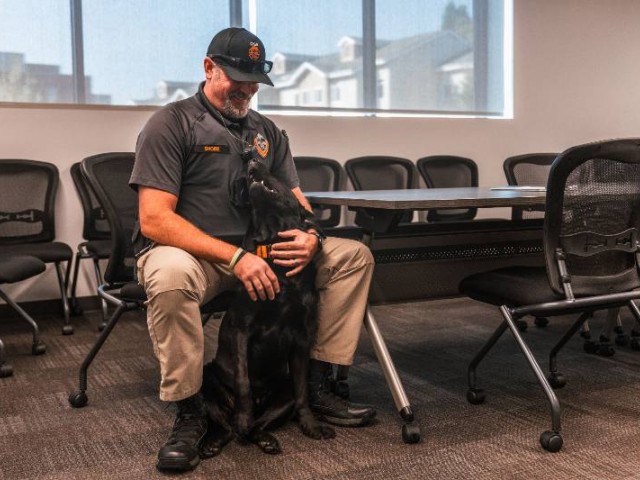 "He wants to be everywhere and anywhere people are, all the time," says Darin Campbell, executive director for Working Dogs Oregon, which placed Cedar at OSU. "Cedar is an incredibly social and happy boy."
Cedar has found a great deal of joy in his Corvallis family. And it's safe to say the feeling is mutual.
Interested in meeting Cedar? 
If you'd like to have Cedar visit an event, or would simply like to spend some time with him, send an email to DPS. Cedar's calendar tends to book up quickly, so advance notice is appreciated.