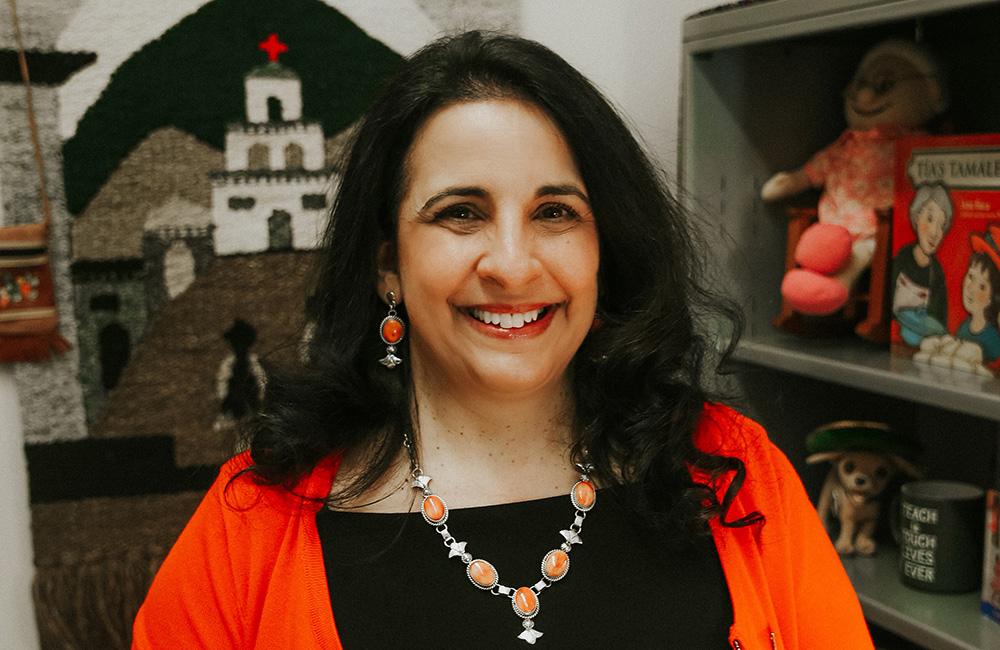 Name the course(s) that you teach, your credentials, how long you've been at OSU?
I teach:
ED 472/572 Foundations of ESOL
ED 473/573 Instructional Approaches to ESOL Education
ED 476/576 Partnerships and Ideologies in ESOL and Bilingual Education
ED 410/510 ESOL Internship
ED 410 Supervision of Double Degree Student Teachers
I was a K-12 Educator for 17 years. I am certified to teach math, Spanish, ESOL/Bilingual Education, kindergarten through 12th grade. I have a BA in Education, and an MS in ESOL/Bilingual Education.
I have been teaching in the College of Education at OSU since January 2017.
What is your favorite thing about OSU/ What do you feel that Oregon State offers that sets us apart from other colleges?
First of all, we have the most beautiful campus in the country. The green, the trees and the flowers are beyond compare. We offer a wide variety of educational opportunities for students, young and older. The research that is completed in our university cannot be surpassed by any other university. Our engineering, business and agricultural colleges are known throughout the country. Soon our College of Education will be as well.
Second, our College of Education is growing because of the outstanding work that is being done to prepare new teachers for the important career of working with students in Oregon public schools and throughout the country. We are fortunate to keep so many good teachers in Oregon. However, many of our students go to work in other states where their Oregon license is accepted because of the exceptional job we do of educating and preparing our new teachers.
Most importantly, I work with the best team at Oregon State University. The ESOL/Dual Language Team is composed of the most amazing people! I have learned so much from these educators and the important research they do. Our team is working on a very important grant headed by Dr. Karen Thompson; TEAMS. This research project has brought to light the impact ESOL preparation of teachers has on the education of K-12 students. Practicing teachers in this program have improved the way that they design and differentiate instruction. Teachers feel more confident working with the English learners in their classrooms, as well as working with their parents, families and communities. Of course, we could not do this work without our support staff, who I consider a part of our team. Our college has Gosia Wojtas, Carma Ganta, Paula Dungjen and Kristin Kinman who do everything that keeps our college running in an organized and efficient way. And then there is Claire who creates materials to advertise and promote all of the work that we do. Their creative and technological skills are one of the reasons so many people choose to prepare for teaching at Oregon State University's College of Education.
Your biggest piece of advice to current and prospective students?
As a student at Oregon State University be prepared to grow and be challenged in ways you never believed. Students at Oregon State are well rounded. They learn to be organized so that they can study hard and play hard. The events on campus range from dynamic and inspirational speakers to heart-stopping sporting events. The professors and instructors expect only high quality work from their students. It is an experience students will want to share with family and friends for years to come.
Why did you want to become a teacher and what's the most rewarding thing about it?
I did not have very good experiences in school. Latinas especially were undervalued and treated as second class. I was made to feel that I should be ashamed of the color of my skin and the fact that my English was not perfect. However, it was as a parent that I became quite concerned about my son's education and the manner in which he was treated in school as well. So, at the age of 30 I began my college education. As a single parent, working full-time and going to school full-time, I earned and paid for my degree and a teaching certificate. It was never easy, but it was the best decision I ever made.
I spent the next 17 years as a public school educator. Nothing has ever given my life more meaning. I was so blessed to have my students, better known as my kids, in my life. I was able to see students overcome incredible obstacles and become extremely successful in their lives. I most often chose to work with students with educational and social challenges. I also worked with our English learners. Nothing was more important than my kids, and they knew it. I was also respected by their parents and the community, who knew that I always had the students' success and best interest at heart. I am privileged to still have contact with many of my students who are grown and have families of their own. One of my greatest joys has been my students who have chosen to become educators. Some were my student teachers when I taught high school. And although I have only been working at OSU for about 3 years, many of my students have chosen to complete their teacher training here at Oregon State, where I have been able to be their teacher again.
I take the responsibility of educating college students as seriously as I did my public education teaching. The teachers I prepare now will impact the lives of so many children. They will make the difference between a child who enjoys and values education, and one who drops out of school. My student teachers will be the ones to make sure that all children, their diversity, cultures and languages are valued and respected so that they can have the confidence they need to be successful in any field of study or career they choose. Above all, they will not have to wait until they are 30 years old to have enough confidence to start the life they were meant to live. Teaching was not and is not my career or my job, it IS my calling, my life.