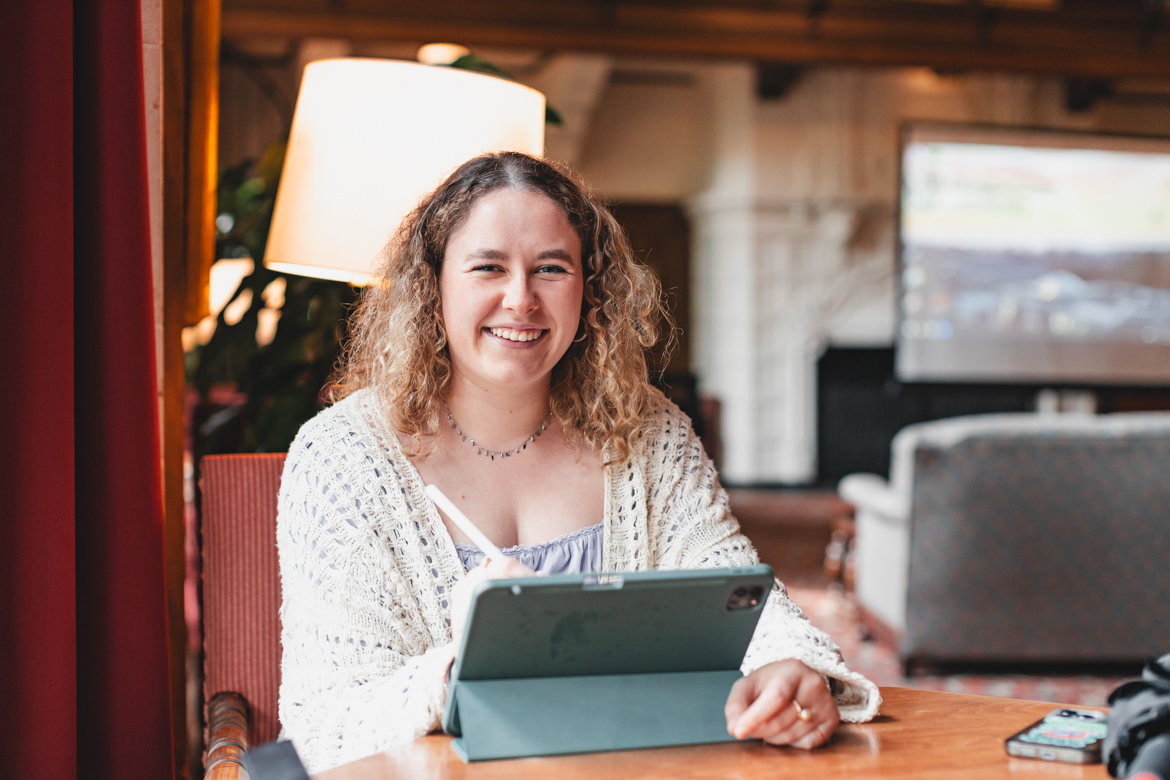 What's your name, major and where are you from?
My name is Penelope White, I go by; she/her. I study studio arts with a graphic design minor. I'm from Burbank, California
Are you part of any clubs, sports, or student organizations? Do you have a job?
This fall, I'll play volleyball on an intramural team! 
Why did you choose Oregon State?
I chose Oregon State because the second I stepped onto campus it just felt right. I got an instant feeling of joy. I could see this being my home for the next four years. Throughout the tour days, I also met a lot of nice and helpful people, and I was looking forward to meeting more. 
What's an expectation you had before coming here and how did it turn out?
I didn't have huge expectations coming here, but I was slightly nervous but mostly excited! I was really looking forward to meeting new people and taking classes I knew I would enjoy.  
If you were leading a campus tour, what's one thing you'd want to mention?
I would want to mention that Dutch Bros is very convenient for late nights of studying or homework if you just need a little kick of energy, and a calm environment to work in. Although it is not on the meal plan, occasionally, it is very worth it! I have gotten a lot of homework done there, and it's a great place to meet new people! 
How do you want to make a difference in our community? This could be current or in the future.
I'd love to do anything I can to help the homeless population. Whether it is donating or doing something more, my hope is that as many people as possible have a place of shelter or somewhere that makes them happy to live, so they don't need to be worried about where they will sleep or what they will eat. As someone from the LA area or even after being in Corvallis for a little over a year, I have seen many homeless people, and it always makes me so sad to see them sad I just hope that things will get better for them. 
You've overcome many challenges to get you to this point. If comfortable, please share a challenge and briefly comment on what you learned from it or how you got through it.
The decision to change my degree from architectural engineering to studio arts has been one of my hardest struggles thus far in school. I've always loved different kinds of art, but I've always thought of it as more of a pastime than a profession. I used to watch a lot of HGTV, so the processes involved in interior and exterior design have always been inspirational to me. I became an architectural engineer because I've always thought it'd be exciting to create unique designs that stood out from the other nearby structures. It wasn't until I started taking engineering and math classes that I realized, I would much rather be on the artistic side rather than engineering. I then knew that I really wanted to do something creative, but I wasn't completely sure what, so I began with my Studio Arts major with a minor in Graphic Design. I have been enjoying my classes a lot more since I switched over and I am very glad I made the choice I did.  
What's your favorite college memory you've made so far? 
One of my favorite college memories I've made so far is being a part of the volleyball PAC class. I was able to meet a lot of very nice people who shared an interest of mine. It was very fun and kept me active and I always looked forward to it every week! More specifically I really enjoyed the day we went to the sand courts for class because it was a lot of chaos but was very fun and exciting and it was a new experience for me. 
If you could give one message to incoming students, what would you say?  
Talk to people around you and in classes! That is how I met a lot of my friends here and I am so glad I did! It is nice to have a group or even individual friends for the time you have free of classes and studying. Meeting up with friends to get coffee, hang out or even study is a great way to take off a little pressure and take a break!