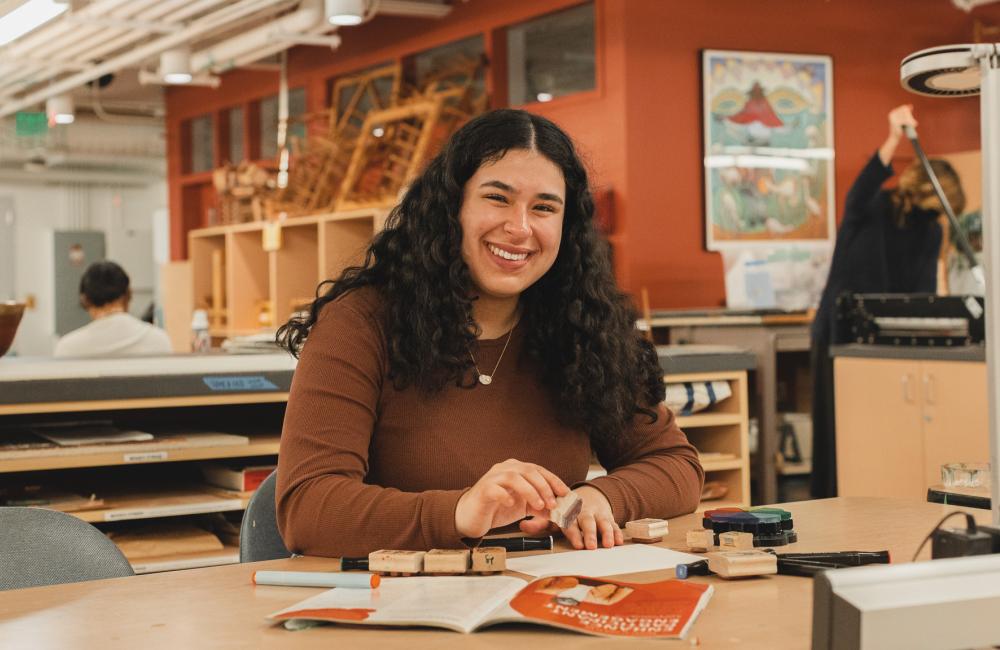 What's your name and pronouns, major and where are you from?
My name is Kylie Thomas and I use she/her/her pronouns. I am majoring in Design and Innovation Management and I am getting a certificate in Peace Studies. I am in my 3rd year here at OSU.
Do you have any dreams after college?
As of right now, my dream after college is to join Nike in product development for women's clothing. I am hoping to bring my strength in design management and my natural curiosity and drive to create new products that people love and remember.
Are you part of any clubs, sports, or student organizations? Do you have a job?
I am not a part of any clubs, sports, or student organizations, but I do have a job as a Design Teaching Assistant for the Design and Innovation Management Major. I help create content for the major promotion, classwork and work behind the scenes to uplift the DIM teachers.
I am also a huge lover of the OSU Craft Center! My goal before graduating from OSU is to have tried all the different mediums available at the Craft Center. I love to work on ceramics, make earrings, carve linocuts, and work on miniature models of buildings!
What has been your biggest success at Oregon State so far?
I believe that one of my biggest successes at OSU so far was being able to teach a class period of HST 317, Why War? I got the privilege to be able to come into class with Dr. Richards and present my 10-week-long project exploring the relationship between conflict and sexual violence against women. By looking to the past with Korean comfort women during WWII, I was able to connect sexual violence to Ukrainian women fighting against Russia in 2022. I was able to present my research to the class, getting feedback, questions, and additional research ideas from my peers.
What's your favorite college memory you've made so far? 
My favorite college memory that I have made so far had to be being able to take my dad and my little sister to their first OSU football game. It was a spur-of-the-moment decision; they happened to be in town while the game was happening. We saw the orange fireworks go off as the game began, and we knew that we had to get in there. The energy of the crowd along with our killer seats made for a great experience. I had never felt prouder to show my family what it was to be a beaver at OSU.
How do you want to make a difference in our community? This could be current or in the future.
I would want to make a difference by incorporating more student art throughout OSU. My favorite thing to do is look at all the beautiful art in the library, but I would love to take the steps to have more student art spread through different buildings around campus.
If you could give one message to incoming freshmen, what would you say?
If I could give one message to incoming freshmen; I would tell them that the energy that you put into OSU will be the energy that you receive back. Making new friends leads to new experiences which lead to lifelong connections. You can't make any of those if you don't put yourself out there!
You've overcome many challenges to get you to this point. If comfortable, please share a challenge and briefly comment on what you learned from it or how you got through it.
I believe that one of my key takeaways from all the challenges that I have faced while at OSU is to take the time to look into the resources around you. OSU provides so many options for help, opportunities to further your professional career, and outlets for you to explore who you are. So many programs at OSU have helped me make the transition from a high schooler, graduating in the midst of COVID-19 to a confident 3rd year college student.
In the next year of your life, what do you look forward to most?
In my next year of life, I most look forward to slowing down and taking more hiking trips around the Pacific Northwest! I would love to do more ocean hikes near the California border, I have never been in that area of Oregon before!