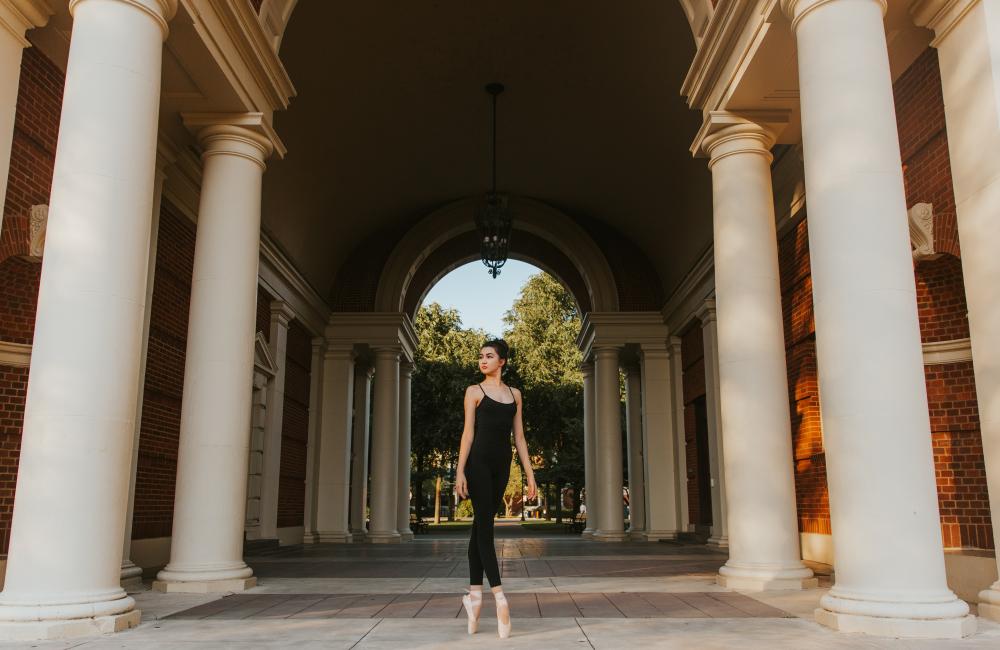 "Keep going no matter what and do your best. Hard work is building your character and it is a huge long-term investment that will pay you back with success. Hard work, discipline and focus brought me here and made me who I am today."
What is your name, major/year and where are you from?
My name is Diana Lastochkina. I am a junior-year honor-roll student majoring in Marketing & Digital Communications with the Dean's Academy option, and the president of the NSCS OSU Chapter for 2020-2021 academic year.
I came from Bishkek, the capital of Kyrgyz Republic, a wonderful independent country located in Central Asia.
Can you talk about your ballet dancing journey? How have you kept up with it during college?
My professional ballet journey started when I became a student of the Bishkek Choreographic Specialized School at age 9. The school provides both – ballet and academic classes. Over the entire period of studying there, I had 5 classes every day from 8 AM to 5 PM Monday through Saturday. After my classes, I had a piano class and rehearsals until 7-8 PM. Then, I got back home and did homework until 1 AM and woke up at 6 AM to start another day. Additionally, I have been a volunteer, taught and guided hundreds of children and primary school students.
In June of 2016, I graduated from the Bishkek Choreographic Specialized School with the 4.0 GPA. As a result of the hard work, I am also able to speak in 4 languages, professionally play the piano and have won six academic championships (math, chess, etc.).
Based on my academic and professional accomplishments, I received the Presidential Scholarship as well as several job offers from leading theaters in Eurasia, and started working at National Opera and Ballet Theater. Within a year of my hard work, I won the recognition from the public and world ballet critics, was published in many local and international newspapers as a new ballet star, and received the highest position/status "Prima Ballerina" in the ballet career. I have volunteered and helped a countless number of children, people with disabilities and older people by performing at charity concerts.
In January of 2018, I moved to London, the capital of the United Kingdom, to prepare for the university. I kept practicing ballet at English National Ballet. Then, in September of 2018, I moved to Oregon State University to pursue a bachelor's degree in Marketing. I have kept up with ballet by practicing over the breaks. During the academic year, I dedicate all of my time to studying.
What inspires you to dance?
The opportunity to show my own interpretation of a character and tell a story through performance. That's what is fascinating about ballet – I live my character's life on the stage, express her emotions and show outstanding ballet technique.
What advice do you have for younger dancers?
Follow your heart. If you truly want to be a professional dancer, be ready to put 100% effort into it.
How does the OSU community help you in continuing to pursue creative aspirations?
OSU provides a wide variety of opportunities to pursue creative aspirations – there is a big number of different classes, clubs and events that help students to try something new and be creative. I was very surprised when I learned that there is a ballet studio on-campus. To complete a physical activity course, I undoubtedly chose the ballet class.