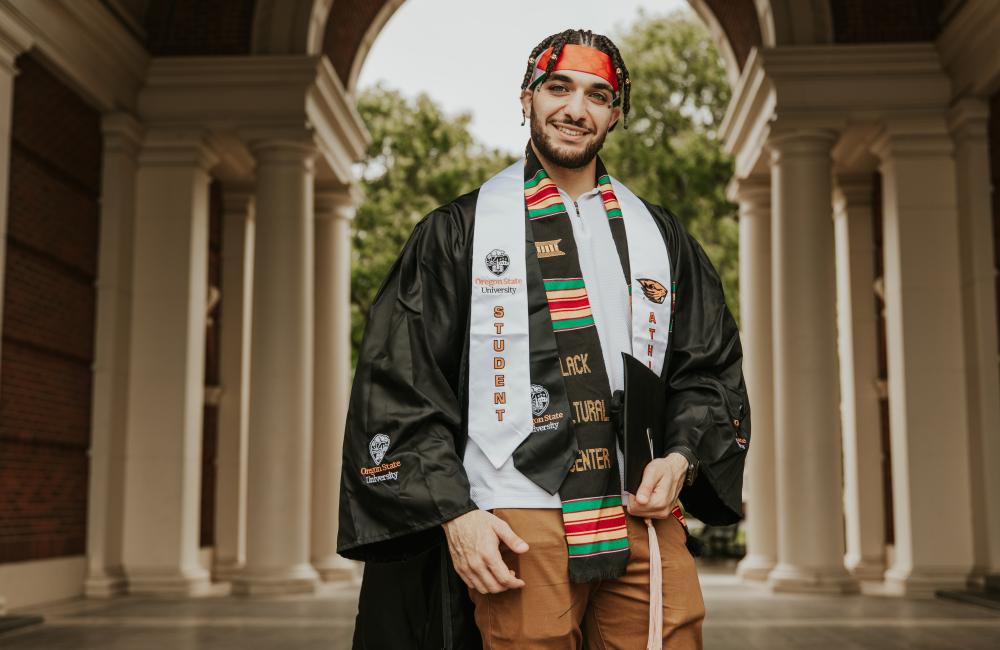 "I love everything about what I do. I got to stand at the lead of marches, I got to host webinars, I raised money and supplies for people who need them, I am earning a master's degree, I got to be a Division I athlete, I got to bring back my fraternity to Oregon State, I get to be happy."
What's your name, major and where are you from?
My name is Adam Rateb from Fairfield, California. In 2020 I received my undergraduate degrees in Public Health, focusing on Human Development and Family Sciences, along with a General Business minor. In 2021 I will graduate with an MBA in Marketing.
Tell us about your time at OSU. How did you get involved? How did you find yourself within Beaver Nation?
I feel like I truly found my path after I started working at the Lonnie B. Harris Black Cultural Center on campus, and this is primarily because of the community that I surrounded myself with. I have always been a student athlete and had my teammates to rely on, but there were things that I couldn't talk about with my team that I found a lot more comfort in when I was in the BCC. A common misconception is that the BCC is meant only for Black students, but it is truly a safe space for students to come in and enjoy video games, conversation, eat their lunch, or just be around people from all different backgrounds. Not only the center itself, but the amount of student organizations that represent themselves in this student community really helped me find my path. Whenever there was an opportunity for me to join a student organization, I took it. I would even find myself stressing out because of the amount of weekly meetings, events, and commitments that I was a part of; but, it was the GOOD STRESS. The kind that was worth the hours of work that I was putting in. On top of my studies, I was basically working to be a voice for students and try to benefit the city of Corvallis--sheesh, all of Oregon really. I found myself speaking in front of many people, donating to charities, becoming a mentor for underclassmen, and still maintaining the honor roll in my studies. I try to inspire those around me and give a reason for underrepresented students to strive for their goals. DSI (Distinguished Scholars Initiative) is a retention program for male students who identify themselves in their respective colored communities, and being an ambassador for this at a Primarily White Institution also helped me understand what I wanted to do with my life. Here are some of the organizations and honors I received in my time at Oregon State:
Student Organization/Athletics Involvement
Oregon State Athletics Wrestling
Alpha Phi Alpha Fraternity Incorporated Secretary
NAACP (National Association for the Advancement of Colored People) President
DSI (Distinguished Scholars Initiative) Board Member
SAAC (Student-Athlete Advisory Committee) Wrestling Rep.
NPHC (National Pan-Hellenic Council) Alpha Phi Alpha
MSA (Muslim Student Association) Member
UBC (United Black Council) NAACP Rep.
BSU (Black Student Union) Member
ASA (African Student Association) Member
Community Service Representative OSU Wrestling
BCC (Lonnie B. Harris Black Cultural Center) Student Peer Facilitator 
Other noteworthy accomplishments
Golden State Scholarship Award
Steve Johnson Fellowship Award
LBH Black Excellence Award
Jason Dorsette NAACP Award
Honor Roll (8 undergraduate terms)
Certificate in Professional Sales
Philanthropy Champions - Alpha Phi Alpha (2021) 
5 years as a collegiate wrestler
Tell us about how you found your degree path?
Undergrad
My undergraduate studies began in Kinesiology because I was clueless on what I wanted to do as a career and all I knew was sports. I initially decided to study sports medicine as this is a common career path for athletes, but it only took me one year to realize that wasn't what I wanted to do at all. I wanted to help people--underprivileged people. I met my current mentors (Jason Dorsette, Terrance Harris, Johnny Peters, and Dorian Smith) during my second year of undergrad and they opened my eyes to the lack of mentors, scholarships, textbooks and funding in school districts all over the country. I was born in Oakland, California and the Oakland school district at the time (2018) had only a 75% high school graduation rate, credited primarily to the lack of resources. I changed my major to Public Health with a focus in Human Development and Family Sciences because I decided I wanted to move into social work. Over the course of my undergrad, I added and dropped a minor in Psychology and found myself adding a General Business minor because it was the prerequisite for an MBA at Oregon State. After my first year at OSU...my cumulative GPA was a 2.27, but after changing my major I have never received a grade less than a B (including my graduate degree). In fact, my cumulative GPA with the exclusion of my freshman year of undergrad is a 3.86, so I learned to enjoy my education and truly found my passion in social work and business. Another factor I must credit for my growth was my work as a Student peer Facilitator for the Lonnie B. Harris Black Cultural Center on campus, which helped give me a sense of community and comfort as I pursued my degrees. 
MBA in Marketing
Marketing is everywhere we look so I figured this would open many career paths in the business world and help me save enough money to reach my ultimate career goal. I would like to one day open a community center back in my hometown of Oakland and offer scholarships, textbooks, and mentoring to underprivileged students in the city. While my first intention for the master's degree was the money, I have come to really love my business studies and I am excited to jump into the workforce after I complete it in June. My graduate degree has only taken me one year to complete as I participated in an accelerated version of the program, which is not recommended for ANY students--let alone a student-athlete. I've had to stack my course load, wrestling training, work, my organizations, my fraternity, meetings, and community involvement this entire school year, but trust me.....I am NOT complaining. I love everything about what I do. I got to stand at the lead of marches, I got to host webinars, I raised money and supplies for people who need them, I am earning a master's degree, I got to be a Division I athlete, I got to bring back my fraternity to Oregon State, I get to be happy. 
What is your favorite memory during your time here? What's one thing you will miss about OSU?
One thing that I am sad about is that I won't be able to spend any more time as a student-member of Alpha Phi Alpha Fraternity Incorporated. My fraternity continues its excellence throughout the entire lives of its members, but there is so much I didn't get to do as a student. Unfortunately, COVID-19 stopped my fraternity brothers and me from holding many in-person events and even competing in strolling competitions--which are reserved for only members of the fraternities and sororities in the National Panhellenic Council (NPHC). I do not have a specific memory that I would say is my favorite, because I have simply had so many experiences, but I will highlight two moments that I will never forget. One of them will be the night that I was initiated into my fraternity and the other was the first time that I strapped up in an Oregon State wrestling singlet and competed in Gill Coliseum for the first time. I came to OSU with the intention of just being a student-athlete, but I left with so much more than that. Wrestling helped define me, but my experience with student organizations is what shaped me. So I will miss the life of an athlete, but I will miss my student involvement just as much. 
There will never be a time in my life where I am not involved in the empowerment of underrepresented communities--it's the career path that I plan to take once I have stabilized myself with a cushion of savings. My goal is to one day open a community center in the Oakland Unified School District so I can offer underprivileged students the opportunity to pursue higher education--primarily through tutoring, mentorship, textbooks and scholarships. I pray that this is the generation that can tear down the social injustice that has been rooted in different segments of the United States, but I feel like that starts in the home! If I can touch the heart of just one person, or change the perspective of just one group, they are going to take that to their home and teach THEIR kids how to love their peers. They are going to carry these perspectives into conversations with THEIR friends. They are going to help break the stereotypes and prejudice that everyone can so clearly recognize around us. There is no way for any single person to change the perspectives of everyone, but if we come together as a collective then we can build a generation of love for our kids, and their kids, and their kids!
A message to fellow Class of 21 graduates?
To my fellow graduate, I just wanna say that I am SO proud of you all. We have overcome diversity in the most amazing way possible. For some of us, we had to teach ourselves the material that we should have learned in our in-person classes. For others, we overcame financial burden in one of the most difficult times in United States history. Even more, some of us dealt with social issues that tore down the very basis of how we identify ourselves. So for all of us who overcame our own adversities, I couldn't be more proud. I just really wish we could be commemorated with a real graduation ceremony, I feel like that would be the best way for us to celebrate with one another. We have strived for years to get the degrees we will be earning this year and it really is a shame that we missed out on our opportunity to commemorate ourselves. In fact, for myself...I missed out on two graduations. I finished my undergraduate degrees in the class of 2020 and had my graduation ceremony canceled, and now I am completing my Masters degree as the class of 2021 and still don't get a celebration. So once again, I encourage everyone to keep their heads up, celebrate yourselves, and I wish you all the best as you enter your professional lives!