Beavers change the world around them.
Gain skills as a student to launch your own business. Moriah Shay did.
Shay, a management major, and Steven Miller, a finance major, teamed up to build a mobile maker space that gives rural high school students the opportunity to be creative and see college as a real possibility. They took their idea to the 2016 Clinton Global Initiative University Social Venture Challenge and won $7,000 in seed funding.
The business, now called Ideation Station, was born out of a real need in Oregon. 16XOSU, an Oregon State social entrepreneurship student organization, received a needs assessment from The United Way of Benton and Lincoln Counties. The assessment showed students in Monroe, Oregon, were lacking effective afterschool programs and sometimes getting into trouble as a result. The 16XOSU team was tasked with designing activities to combat this problem.
Shay and Miller dreamed up the mobile maker space because it wouldn't just entertain students, it would help them make a better future for themselves. With additional grants from United Way and the OSU Foundation, they bought a 32-foot trailer and equipped it with everything students would need to create their own prototypes: a 3-D printer, vinyl cutter, laser engraver and other tools. Then they launched their idea — the Thinker Tinker Trailer — in Monroe and in Independence, Oregon.
And it worked. Shay recalls a girl she met at Monroe High School named Brooke. Originally, Brooke couldn't see beyond life in her small town, but after two weeks of building her own prototypes, she announced she wanted to go to college to be an engineer.
"I thought, if just two weeks can change the course of a young girl's life, what could six months do?" Shay says. "I realized we needed to scale it."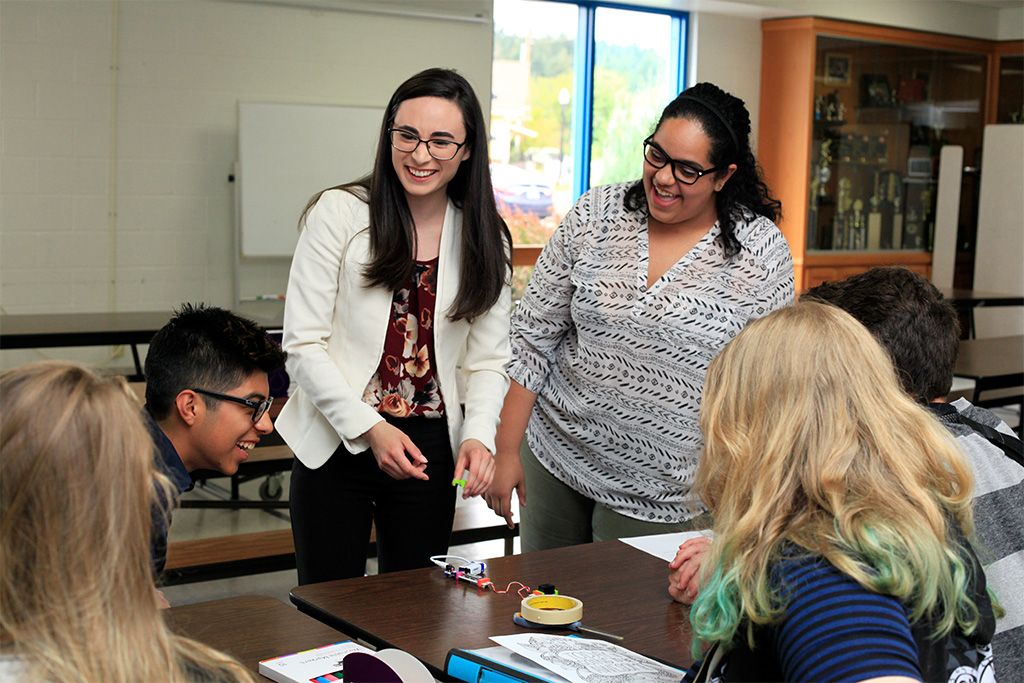 In the future, Shay hopes to take the idea nationwide. As a more sustainable model, she is running Ideation Station as a nonprofit consulting business where she advises school districts and community centers on how to build their own maker spaces. The company is also building a second mobile maker space for Oregon 4-H that will impact students across the state.
Shay's experience in the College of Business was the catalyst for her entrepreneurial adventures. InnovationX, the college's center for entrepreneurship and innovation, includes a first-year class where students run their own micro-enterprises. And her major gives her plenty of experience with real businesses.
"The best classroom doesn't have walls. We visit Microsoft, Boeing and Amazon up in Seattle for an entire weekend. We're really getting out there and seeing these companies. We bring speakers in that have run their own companies, like the founder of E-Trade," she says.
"The College of Business encourages me to challenge the status quo and to ask why — to see rules as fluid, not concrete. I am able to create my own solutions to problems."
Creating solutions wasn't limited to her own business. During a summer internship at Boeing, Shay applied lessons from the College of Business — such as a 30-second pitch contest that allows everyone to voice their ideas versus talking over each other. This novel approach to proposal management boosted efficiency by 40 percent.
From what she's learned at Oregon State, Shay has inspired others to tinker, invent and improve out in the world. She has the encouragement and training she needs to take her ideas anywhere.
"If you want to do something, you are going to be able to do it here," she says. "The faculty and the students are going to help you. The support system is real."