We have many resources to help you find your groove.
Students like Jalen Malik Ladd are one of them.
During his time at Oregon State, Ladd specialized in getting lost students unlost. In addition to working toward a double major in kinesiology and innovation management, the 2017 graduate dedicated himself to helping other students find their way.
When asked where people can access resources, he jokes, "I am the resources."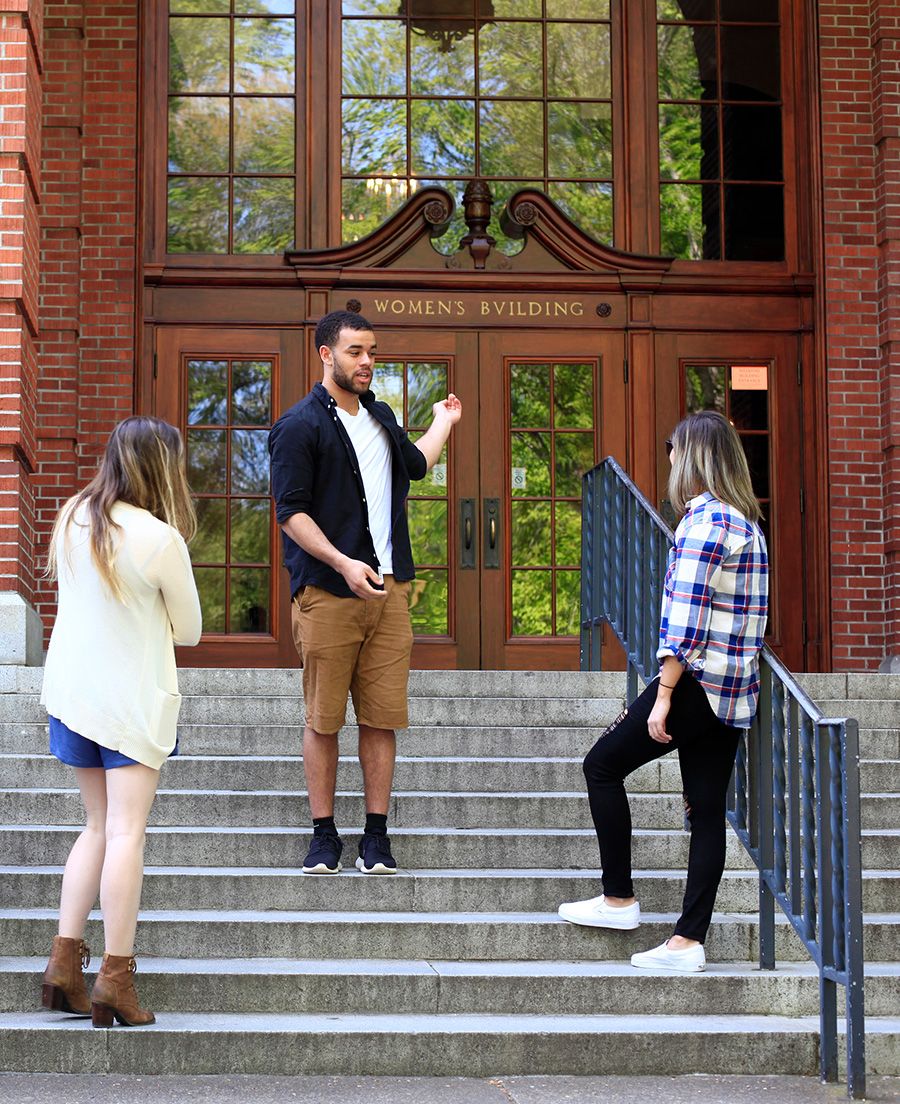 Ladd remembers well how he felt when he first moved down from Portland to start college.
"When I was in my first year here, I was kind of lost and floating around. And it's always rewarding to see those people and be able to just grab them and ground them. It's o.k. I'm here. You're here. We'll both make it through!" he says.
Ladd was a peer ambassador for the College of Public Health and Human Sciences. Practically, this meant setting up advising appointments, hosting workshops about class selection and major changes and providing individualized advice from a student perspective. You could also find Ladd out around campus taking prospective students on tours, telling them about getting involved and living on campus. He liked to point people to the Student Experience Center as well.
"If you have anything you want to do on campus, go there," he says.
In addition to campus resources, Ladd knows the value of family support and guidance. Even with a Pell Grant, he says it was a bit of a question how he could afford to keep going to college. Every year he sat down with mom and two older sisters on January 1 to figure out finances and hash out the FAFSA. This team effort got him through.
His family and friends were also the fuel he needed to make his dream of studying abroad in Australia a reality. He started a GoFundMe online campaign to help him finance the plane ticket and the cost-of-living hike for a semester in Sydney. The rest was already paid for through a direct exchange where his tuition dollars took him to the University of Sydney and an Australian student came to Corvallis.
Australia was an adventure — from scuba diving in the Great Barrier Reef, to feeding wild kangaroos, to living near the spectacular Sydney Opera House, to hands-on learning opportunities like measuring an athlete's glucose levels before and after exercise. Ladd learned even from just walking the streets and hearing the diverse languages spoken by international visitors and residents. He credits studying abroad with expanding his worldview. But Sydney is just one of almost 200 international experiences Oregon State offers. The university has people on all 7 continents and 72 countries.
Whether it is on campus, on-the-job or on-the-go Down Under, Ladd used every resource available to him to chart his path through college and beyond. What's more, he's taken what he's learned and brought it back to new students as they adjust to university life.
But even though Ladd has graduated, we've got you. Our campus is chock-full of students just like him who will guide you where you're going and resources for everything you may need. Just ask.