Completed Construction
Construction Process | Maintenance
Like much of the construction industry, OSU relies on green building standards like US Green Building Council's Leadership in Energy and Environmental Design (LEED) program to employ lower impact development. LEED equivalent is a requirement at OSU. All buildings built at OSU must be built to a LEED silver equivalent and all renovations must be built to at least a LEED certified equivalent.
| | | |
| --- | --- | --- |
| Building Name | LEED Certification* | Year Constructed/Renovated |
| Austin Hall | Silver* | 2014 |
| Basketball Practice Facility | Silver* | 2013 |
| Native American Longhouse | Silver* | 2012 |
| Student Success Center | Silver* | 2012 |
| Oldfield Animal Teaching Facility | Silver* | 2012 |
| Furman Hall | Silver* | 2011 |
| Hallie Ford Center | Silver* | 2011 |
| International Living-Learning Center | Gold* | 2011 |
| McAlexander Fieldhouse | Gold* | 2011 |
| Energy Center | Platinum | 2010 |
| Linus Pauling Science Center | Silver* | 2010 |
| Reed Lodge | Silver* | 2010 |
| Heckart Lodge | Silver* | 2009 |
| Kearney Hall | Gold | 2009 |
| Sports Performance Center | Silver* | 2008 |
| Magruder Hall-Large Animal Hospital | Silver* | 2008 |
| Kelly Engineering Center | Gold | 2005 |
| Reser Stadium | None - see fact sheet | 2005 |
| Weatherford Hall | Certified | 2004 |
*or equivalent to LEED certification
---
Outdoor Recreation Complex
The Outdoor Recreation Complex was finished by Homecoming 2010 and is an expansive updated section of campus featuring synthetic turf fields, lighting, a parklike setting, and a new event space. It also includes a new jogging track and will include the construction of new tennis courts.
It is also a more sustainable space because of the planting of more than 60 trees on the site and the use of the synthetic turf will eliminate the need to to watering or use chemicals and fertilizers. As an outdoor facility, the project meets all University and City requirements for stormwater quality and detention. The lighting, described more fully below, is specified meet the "dark skies" requirements and provide energy savings measures. The pavilion, restrooms, and storage building incorporates daylighting, occupancy sensors, low-flow fixtures, and solar hot water features. Selected materials and furnishings are considered on a sustainable basis, including use of certified woods in the benches and recycled content within the synthetic turf.
The image below refreshes every minute.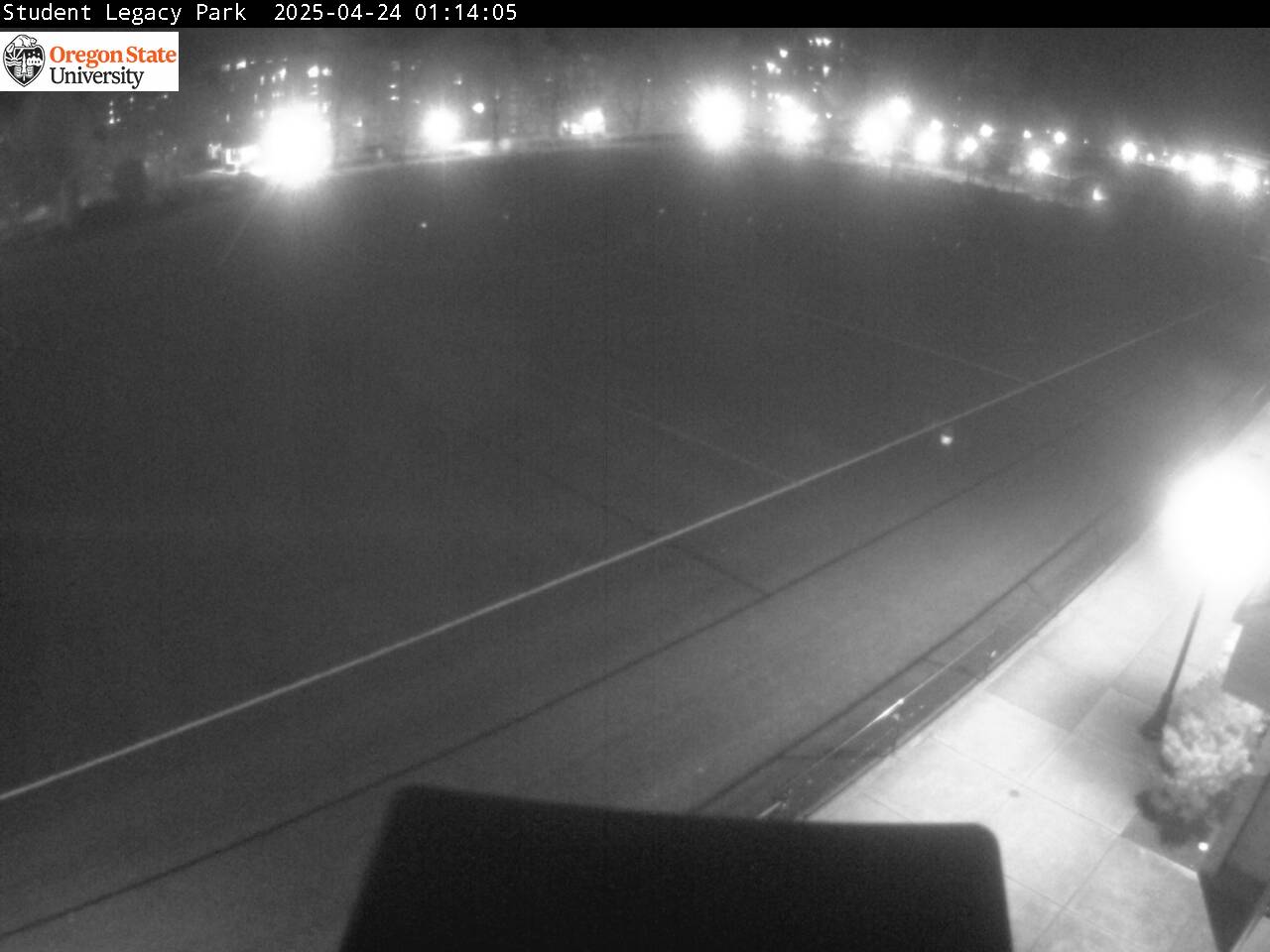 ---


OSU Energy Center
OSU's 1920s era heat plant provided steam to most campus buildings until 2009 when the new OSU Energy Center went online, producing steam and electricity to efficiently heat and power OSU's main campus. This co-generating, or combined heat and power (CHP), technology greatly increases efficiencies by utilizing waste heat from the electrical generation process. This "waste" heat it utilized to heat campus buildings. Additionally, the close proximity of the electricity generating source to electrical loads on campus means transmission line losses are greatly reduced, improving overall efficiency of the electrical grid and postponing the electric utility company's need for increased capacity.
Energy Center systems are configured for future use of renewable fuels, such as biodiesel and methane. CHP facilities are becoming more widely adopted because of high efficiency and enhanced reliability. This facility will reduce OSU's emissions of nitrogen oxides (NOX), carbon monoxide (CO), and greenhouse gases.
Additional benefits of this project include:
Reduced air emissions, including an estimated 38% reduction in greenhouse gases
Reduced water consumption through rainwater capture and by modernizing systems
Lower transmission losses by generating about 50% of OSU's electricity on site
Partial power to campus in the event of a power grid outage
The Energy Center building was designed to LEED green building standards, and in January 2011 received a Platinum rating from US Green Building Council.
---
Hallie Ford Center for Healthy Families
The 18,000 square-foot Hallie Ford Center was constructed for the College of Healthy and Human Sciences in 2011 and 2012. It is to become a hallmark of campus and will feature collaboration among many disciplines. The ground floor includes a welcoming common area, office of the endowed director of the Center, a family style living area, conference room, and kitchen. Offices for Research Core directors and others are located on the second floor interspersed with common areas conducive to spontaneous conversation and small meetings.
Follow this link to watch the time lapse construction video.
---

Linus Pauling Science Center
The $62.5 million, 105,000-square-foot facility broke ground in September 2009 and held its grand opening in October 2011. It is built to meet LEED Silver requirements and includes the extensive utilization of natural light, heat recovery and use some solar equipment. It will house the Linus Pauling Institute and chemists from the College of Science, and contain classroom and laboratory space for students and researchers studying chemistry, biology, and life sciences.
Follow this link to watch the time lapse construction video.
---


Kearney Hall
Built in 1899, Kearney - formerly Apperson - Hall underwent a $12 million renovation in 2007 and 2008. Kearney is registered for and expected to achieve a LEED Gold rating by the US Green Building Council. Attempting to preserve its historical significance as well as reduce the need for new materials, the granite and sandstone shell remained almost completely intact during the extensive renovation. Exposed walls and ceilings will allow the building to be used as a 'living classroom' for generations of new engineers. Kearney will aide the College of Engineering in its quest to be one of the top-25 engineering schools in the nation.
Notable features of Kearney Hall include:
Use of natural light in classrooms, offices and common spaces to reduce dependency on lighting systems
Reuse of building materials for new construction
Extensive use of local and recycled-content construction materials
See more information from the College Planning & Management article.
---

Kelley Engineering Center
The Kelley Engineering Center, which opened the summer of 2005, is the physical centerpiece of the OSU College of Engineering drive to become one of the nation's top-25 engineering programs. The building's design is centered on communication, innovation and responsible environmental design.
Kelley Engineering Center is certified LEED Gold from U.S. Green Building Council, making it the "greenest" academic engineering building in United States. The four-story, 153,000-sq.ft., $45 million building features extensive sustainable "green" design elements, used to educate students and others about sustainability and renewable energy issues.
See a time lapse movie of the building's construction and read the complete fact sheet (Word document)
---

Reser Stadium Expansion
The $80 million Reser Stadium renovation, prior to the 2005 season, added and expanded a new east side section. The structure includes numerous state-of-the-art amenities, including the spacious Club and Loge levels.
This project, while not LEED certified, took sustainability into consideration in many respects. Some highlights include:
An Energy Star compliant white roof
Energy consumption 32% lower than Oregon code
Air conditioning economizers that use fresh air when outside temperatures are below 72 degrees F.
Lighting controlled by occupancy sensors
Minimum 35% local construction materials
Extensive use of reclaimed wood products
Recycled material in the plastic seating and field turf
Check out the complete list on the fact sheet and watch the renovation time lapse.
---

Weatherford Hall
Originally constructed in 1928 then closed in 1994, Weatherford Hall is a landmark building that reopened in 2004 after an extensive historic renovation. The LEED-registered remodel is home to one of the first residential colleges on the west coast. It is a collaborative effort of the College of Business, the College of Engineering, and University Housing and Dining Services.
---

Magruder Hall
Constructed in 1979, Magruder Hall has undergone a series of renovations in recent years.
In 2004, the 28,060 square foot Small Animal Hospital Addition was completed, which added a two story hospital wing and remodeled a portion of the original building.
In spring 2008, the Large Animal Hospital Addition was completed, adding over 25,000 square feet of space. The Large Animal Hospital Addition was required to participate in the Oregon Department of Energy State Energy Efficiency Design (SEED) program. Final SEED analysis showed the building will use 25% less energy than a building built to code. The State of Oregon's LEED Silver equivalency requirements, based on U.S. Green Building Council's LEED Green Building Rating System, resulted in a building that includes more sustainable features like:
Use of low-emission adhesives, carpets and composite woods
Daylight reaching 75% of all spaces
Over 20% of construction materials manufactured locally or regionally
At least 75% of construction waste diverted from the landfill, either to be salvaged or recycled
Bicycle storage and changing rooms for building occupants
An estimated 30% reduction in water use compared to code requirements
At least 50% of wood-based materials from sustainably-managed forests
For more information, see the Large Animal Hospital Addition Sustainability Report.
---
McAlexander Field House
This recently completed fieldhouse renovation showcases numerous features of sustainability. The project is well within equivalency to LEED Gold, with 74 out of 110 possible points. For more information, see McAlexander's LEED Scorecard.
Additionally, back in the early winter of 2009, the Department of Administrative Services (DAS) allowed the use of 2009 LEED CI (for Commercial Interiors) to document this project, rather than the out-of-date LEED 2.0 NC (for New Construction). McAlexander was the first DAS project in the state to use this standard.
The McAlexander project netted $4,300 in incentives back to OSU from the state's Energy Trust initiative, mostly for energy efficient lighting, including the first installation of LED fixtures as a standard, non-iconic lighting selection on a Yost Grube Hall Architecture (YGH) project. Also used were high efficiency, multi-switchable, 8-lamp fluorescent high bay fixtures for court and turf areas. In response to lessons-learned, lighting for the climbing wall resorted to standard inexpensively-lamped 2-foot and 4-foot linear fluorescents, allowing easy reconfiguration in future as needed.
STATE ENERGY EFFICIENT DESIGN (SEED)
The SEED Report, prepared as required by DAS, shows a 51% improvement over code requirements for fan motors and 49% improvement over code for power to lighting. Cooling systems added for the classroom and office will save 22% over code requirements. While improving indoor air quality through the introduction of fresh air into the space, the heat recovery ventilator is expected to recover over 237,000 BTUS per winter heating season. Water efficient fixtures result in an expected 37% savings in water use. While an overall lighting calculation was not generated for the alternate skylight, the ability to include this component in the final contract will allow substantial avoidance of electric lighting for much of the year.
OTHER NOTABLE ACHIEVEMENTS FOR MCALEXANDER FIELD HOUSE:
Improved fire separation from ROTC
New fire suppression and digital fire alarm systems to the field house portion of the building
Improved accessibility at all entries
Full-time staff accommodations for greatly improved oversight, safety and security
New, universal restroom facilities and water stations
New classroom and office areas
Added bicycle parking, covered entry and new handicap parking
Reintroduced windows and added skylight for daylighting and natural ventilation
Improved facility for athletic baseball practice with seperate access
Second, large climbing wall at OSU, a game changer in recreation, physical education and skills training
Improved ball court surfaces and fully-netted indoor turf area
New, secure storage areas
Existing steam heat system converted to direct digital control (DDC)
This successful project will serve the students at OSU well for generations to come. The users, project managers, contractors, designers and the City all came together to meet the challenges inherent in a century old building that has seen a wide variety of functions over the years.
Current Construction Projects
Construction Process | Current Construction | Completed Construction | Maintenance
---

Native American Longhouse Reconstruction
The new Oregon State University Native American Cultural Center (NACC) will provide a multi-service learning and gathering space for Native American students to come together in a supporting and welcoming educational environmental where knowledge and traditions can be shared with one another and others from across the Oregon State University community. Fundamentally, the NACC needs to speak to everyone in the larger OSU and Oregon State communities, expressing contemporary American Indian realities rooted in the traditions of their cultural heritage. The project needs to stand in the "ways and beliefs" of the Indian people, reflect their native spirit, sustain their community and tell their stories to build connections amongst all those that come to Oregon State University. Find out more at www.mu.oregonstate.edu/longhouse
The construction camera below refreshes every minute.
The reconstruction of the Native American Longhouse will be built to LEED silver standards and will feature building materials and design that allow the project to be energy efficient. Responsibly harvested and certified wood will be chosen with low-toxic paint and finishes. Stormwater from the roof of the new building will be directed into planting beds before being discharged into the storm drain system. The stormwater runoff will be decreased slightly as a result of less impervious area (removal of existing Quonset hut and parking lot). Redevelopment of the parking lot will include landscaped beds and less paving near the stand of existing trees.
---

Basketball Practice Facility
Planned as a 34,500-square-foot four-story structure, OSU's impressive new practice facility will contain two regulation basketball courts modeled after facilities at the universities of florida and Kentucky. The courts will occupy the first and third floors of the building, along with locker rooms, satellite training and medical areas, and service and mechanical spaces.
The alternate floors--second and fourth--will consist of 2,000-square-foot partial floors containing coach and program staff offices. These spaces run the length of the building and ofer panoramic views of the court below. Together, the court and program space create a "home" where the sense of family that is the distinctive edge for every OSU team can be fostered.
The construction camera below refreshes every minute.
A two-story glass atrium, strikingly illuminated at night, will serve as the main entrance and feature a Basketball Hall of fame highlighting the greatest achievements and players of OSU's past--and future! A mural stretching to the height of the atrium will celebrate the legacy--and the terrific student athletes and coaches--of Oregon State basketball. To find out more, click here.
---

McAlexander Fieldhouse Improvements
The project provides for renovation of the interior of the barrel-vaulted portion of the McAlexander Field House, for those portions of the building controlled by the Department of Recreational Sports. Renovations will improve surfaces and equipment for turf and court sports, provide a new climbing wall and skills-building course, and general improve the availability, control, safety and functioning of the space for recreation for the growing student body. The existing layout of the playing surfaces will be reconfigured and new artificial turf and resilient court surfaces will be provided.
The renovation will be designed to meet State energy code and SEED requirements. Additionally, the project will meet or exceed the State's requirement for LEED Silver equivalency. The project will represent the ideal of healthy design and construction, appropriate to the intrinsic connection between sport, recreation, health and education. The addition of bike parking to the facility will also make the building more accessible to alternative forms of transportation on campus.
More information can be found at http://oregonstate.edu/recsports/student-facilities-improvement-plan.

Green Building
Construction Process | Current Construction | Completed Construction | Maintenance
While the differences in scale of remodeling an office and constructing a new building are vast, the process remains relatively unchanged. Bids are made, contracts are awarded and construction standards are followed. This page will reveal the construction process and the standards behind them.
Construction Process
The Facilities Services Design and Construction team created a workflow diagram outlining their construction process. While smaller projects may not be subject to the level of oversight listed here, the general process is similar. The earlier that green building and sustainability goals are brought into the process, the more likely it is that these objectives will be realized.
Construction Standards
The centralized source for construction standards applied to campus is the Facilities Services Design Criteria. These criteria should be consulted before a project, of any size, is intitiated. Below are criteria highlights for commonly-occuring projects on campus.
Carpet and Floor Coverings
Low VOC adhesives will be used for flooring installation.
Products manufactured overseas shall be tested by OSU Environmental Health & Safety for asbestos prior to installation.
Vinyl composition tile or linoleum (Marmoleum preferred) are to be used in all public areas on campus.
Carpet tiles are to be used where carpet is necessary and/or requested.
For more information on carpet and floor coverings, please contact the Sustainability Office.
Paint
All paint must be lead-free.
There are distinct codes for the paint that colors our campus orange and black; see the design criteria for the specifics.

Maintenance
Construction Process | Current Construction | Completed Construction | Maintenance
Maintenance
All maintenance efforts cannot be fully described here, but in general as upgrades occur, higher efficiency equipment and sustainable principles are applied in many cases as part of daily work. To report a maintenance need or request service, please contact the Work Coordination Center at 737-2969.
The MU has taken a wide variety of steps to be greener, including energy conservation, food waste management, and many other things. For more information, contact Sid Cooper.
Green Cleaning and Custodial
Until summer 2008, Aramark had been OSU's contracted custodial service. They predominantly used environmentally friendly cleaning solutions. With the new custodial contractor, GCA, some of these practices remain the same, but check this site for more information in the near future. Past efforts include:
reducing everyday cleaning chemicals from 7 to the 3: an all purpose cleaner, a sanitizer, and a neutral floor cleaner
using portion control dispensers and new cleansing and rolling equipment to reduce chemical use, improve resource efficiency and worker safety while reducing cost and spillage
converting to a washable microfiber flat mop, eliminating the 50 lb. bucket and reducing wastewater, cleaning solutions and bacteria substrate
using vacuum units Green Seal Certified by the Carpet and Rug Institute
| | |
| --- | --- |
| Rather than traditional floor wax, Aramark applied a polymer based finish which, with proper maintenance, does not need seasonal stripping and reapplication. Wax strippers are very caustic and when mixed with old finish, form undesirable waste products. A less toxic product can be used to routinely maintain the floor. | |
The Oregon Natural Step Network, working directly with the Paint Shop crew, completed a Natural Step (TNS) back-casting exercise in April 2005 to formulate a strategic plan for the Shop. The plan provides specific long-term planning and identifies and ranks short-term actions. Check the link above for more detail.